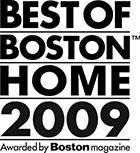 The MacDowell Company is thrilled to announce they have been awarded the distinction of Best Landscaper in Boston Magazine's Best of Boston Home 2009.
In describing the premier designers, contractors, and other miscellaneous businesses in Boston and beyond, Boston Magazine writes "For three all-too-brief months a year, our backyards become an extension of our living rooms: Screen doors are propped open, charcoal grills are fired up, neighborhood children play hide-and-seek in the shrubbery. So it makes sense that your yard be as thoughtfully designed as your home's interior. Enter the MacDowell Company, whose 38 years of landscaping experience can turn a treeless pasture into a flowering garden, multilevel terrace, or lake-shaped pool with a bluestone deck."
More information about this honor can be viewed here.