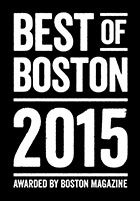 The MacDowell Company is honored to receive this year's Best of Boston 2015 – Best Landscaping award.
The tribute states that "with decades of experience under their belts, the talented landscape architects and contractors at the MacDowell Company know a few things about exterior design. Whether creating the ultimate backyard oasis or sophisticated stone terraces and courtyards, MacDowell folks shepherd the process from beginning to end, ensuring picture-perfect results at every turn. Go ahead, give 'em a call. Your neighbors will thank you."
More information about this award can be found here.